Tripawds is a user-supported community. Thank you for your support!
Happy Valentine's Day from Dottie!
It's been too long since our last update but we've been living life here. Dottie is her old self. She may be bolder and braver and stronger but she is still our sweetest girl. She loves Leo! He's her newest best friend and he loves to snuggle. ❤️ They now spend time in Dottie's favorite chair together.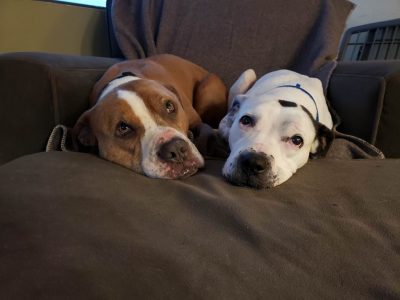 Dottie has been navigating floors without any hesitancy. We still have yoga mats and rugs down for her but, she doesn't really use them anymore. She's still doing her exercises and going on walks. She just wants to go and be a dog. We haven't gone to the beach or many other excursions because it has rained so much recently. This is a real bummer for both dogs who love to spend as much time outside as possible.
The best way I can convey to you how great the Super Dots is doing is by showing you this video. We set up a camera to monitor the pups while we are at work. It was helpful in making sure the two dogs were doing well together and mostly has been entertaining. They are typically sleeping but on this day I came home and found a blanket on the patio. I hadn't watched all the clips of video from the day yet. I teased Leo that he was just like the last boy dog we had (Clyde❤️) and brought the blanket inside. I told Rick and we laughed and he said "wouldn't it be hilarious if it was Dottie?". I decided to see if I could find the guilty party caught on camera. I'll let you see for yourself. 😂😂😂
Dottie is great! ❤️🐾
Happy Valentine's Day to all of you and your tripawd pups! They make our hearts happy and whole. ❤️
✌🏽❤️🐾,
Tara and Dottie